Empire:Rome Rising
War Game – Build a City as Powerful as Ancient Rome
Do you love playing RTS games? Are you interested in world domination? If yes, then this war game is definitely one you would not want to miss. Empire: Rome Rising is a nice game in which you get to build up your empire from the ground up and then look to dominate the world. It places you in a hostile world where your city is facing threats from its neighboring cities. Your job is to start building up your defenses and constructing buildings that will help you in thwarting enemy attacks. At the same time, you need to build up an army as well that is going to help you wage war on other cities. Although it is an excellent game, it requires access to private information which makes it a threat to your privacy.
Empire: Rome Rising is a nice blend of decent graphics and user-friendly gameplay. There is a tutorial that helps you in understanding the core elements of the game. This helps a lot in getting you in the groove from an early stage and makes it easier for you to progress further. You will find menus located on both the right-hand side of the screen as well as its bottom. The ones on the right are for different events that you can participate in while the ones on the bottom are for navigating the game's different quests and features. There are two maps available to you in this war game. The city map shows the different buildings you have in your city while a world map shows where your city lies in the world.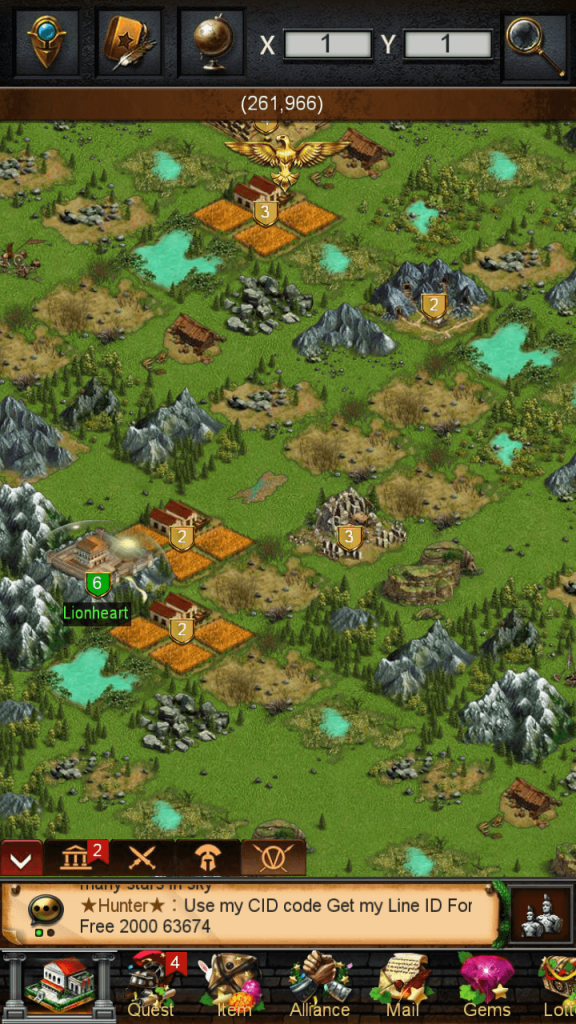 In this war game, you have to complete a variety of different quests that will help you in leveling up your city quickly. These quests require you to build and upgrade different buildings and sometimes to even research new technologies. Each upgrade or research requires a certain amount of time to finish. You can speed up this time by using various speed-ups that are provided as rewards for completing quests. Aside from building upgrades and technology research, you are required to train troops for your army too. There are a variety of different units that you can train which include elf archers, dragon knights, giants, cavalry and warriors. Similar to the upgrades and research, the training also takes up a lot of time. Speed-ups can be used to shorten the wait and get troops trained quickly.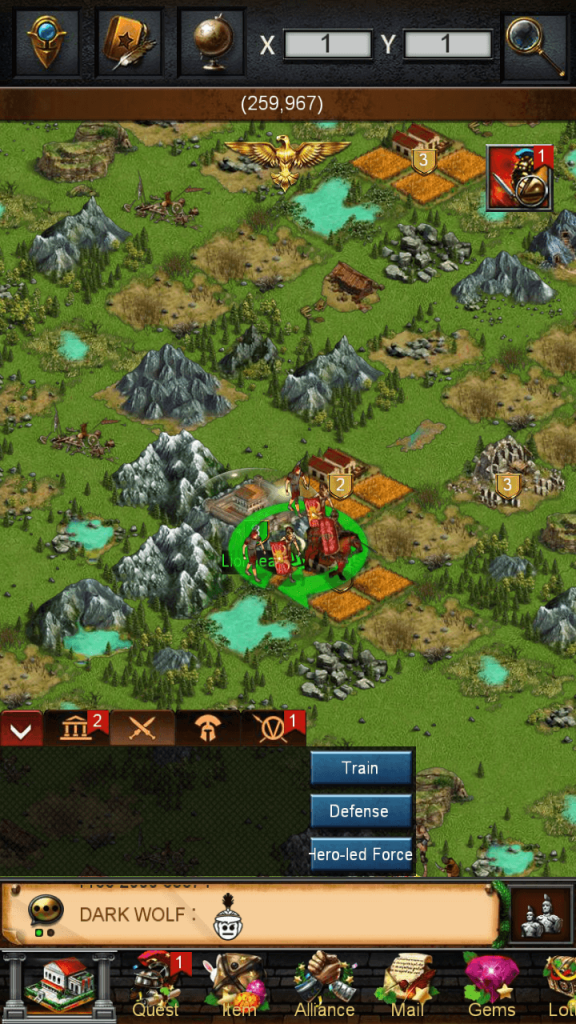 Empire: Rome Rising has a multiplayer aspect to it too. It allows you to create or join alliances. In an alliance, you have the opportunity to help out your alliance members and even get help from them to level up your city. Moreover, you can chat with your alliance mates as well as other players and discuss strategies with them. In this war game, you get to send out your troops to other cities and conquer them. You can get extra resources by occupying other territories. When invading any city, you can decide the formation of your troops and strategize your attack. You can also see the whole battle play out in real-time on the World Map.
Features:
Lots of different buildings to construct and upgrade
Gather important resources to build your army
Train troops for conquering other territories
Build your city's defenses to withstand attacks
Complete quests to gain various rewards
Enhance the skills of your hero by spending skill points
Research different technologies to get the edge
Join an alliance and conquer the world together
Chat with other players from all over the world
Watch the battles unfold in real-time on World Map
Conclusion:
Empire: Rome Rising is a gaming app which is designed for people who love war mongering and are fans of real-time strategy games. It gives them the chance to build an empire that is not only capable of defending itself from intruders but can also occupy other territories and empires. It is a war game worth having on your phone but because of its intuitive nature, it might not be suitable for privacy-conscious people.
---
Add a review
Tell us your experience with
Empire:Rome Rising
RELATED PROGRAMS
Our Recommendations
---
---
---
---